Soil Health Card Scheme (SHC)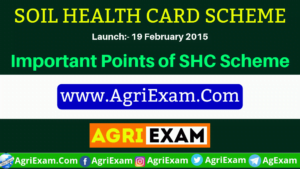 Soil health card scheme has been launched on 19th February 2015. Under the scheme, Soil health card will be provided to all farm holdings in the country at an interval of 2 years so as to enable the farmers to apply appropriate recommended dosages of nutrients for crop production  and improving soil health and its fertility.
 It was launched by Prime Minister Narendra Modi from Suratgarh, Rajasthan.
Quick Points

Scheme launch

19th February 2015

Launch by

PM Narendra Modi

Launch From

Suratgarh, Rajasthan

Soil Health Card Valid For

2 year

Slogan
"Swasth Dharaa. Khet Haraa."

Govt Plan to distribute the Card 

14 Crore

Total Budget

₹568 crore

Total Parameters

12

SHC Mobile app Launch
5th December 2017
PM gave slogan- "Swasth Dharaa. Khet Haraa" (Healthy Earth, Green Farm)
Soil Health Card Mobile application Launched on the occasion of World Soil Day – 5th December 2017 in Jhajjar, Haryana.
Soil Health Card was launched in February, 2015.
Soil Health Card scheme has been approved  for implementation during the remaining period of 12th Plan to provide 12 crore Soil  Health Cards to the farmers in the country.
Soil health card is being issued every 2 years for all land holdings in the country so as to promote balanced and integrated use of plant nutrients.
Nation-wide program to conduct farm level soil analysis.
Objectives
To provide information to farmers on soil nutrient status of their soil and recommendation on appropriate dosage of nutrients to be applied for improving soil health and its fertility.
Provide customized crop specific recommendation for nutrient application.
Parameters
Soil samples should be processed following standard procedures and It will contain the status of his soil with respect to 12 parameters,  namely pH, electrical conductivity (EC), Organic Carbon available N, P, K, S and micro-nutrients (Zn, Cu, Fe, Mn & B). 
Norms of soil sampling
The quality of soil testing and fertilizer recommendation depend upon soil sampling. Following uniform norms are prescribed for sampling.
| | |
| --- | --- |
| Samples in Irrigated areas | 2.5 ha |
| Samples in Rainfed areas | 10.0 ha |
In the

irrigated areas

, samples will be drawn in a grid of

2.5 ha

.
In

rainfed areas

, sampling will be done in a grid on

10.0 ha

.
In all,

253 lakh number of samples

will be tested to generate 14 crore soil health card in each of the cycles.
Benefits
SHC helps farmers to improve soil health and increase productivity.
By SHC farmers have reduced N, P and K use, especially nitrogen use has and increased micro-nutrients use which helped them to increase the fertility.
It has helped farmers to diversify towards less input-intensive crops from more input-intensive crops like paddy and cotton.
It has also helped farmers to find input substitutions.
It has helped in the formulation of specific schemes like subsidised micronutrients from governments.
Status of Soil Testing Laboratories set up under Soil Health Management (SHM) scheme since 2014-15
| | |
| --- | --- |
| Static Labs | 437 |
| Mobile Labs | 69 |
| Village Level Soil Testing Labs | 506 |
| Mini Labs | 6511 |
Assistance for Soil Improvement
Subsidies &  Criteria for Assistance Important For Agriculture Exams
Type of Assistance

Criteria for Assistance/ maximum limit

Scheme/Component

1

Distribution of Micronutrients & soil ameliorants.

Rs. 2500/ha 

Soil Health Card scheme

1.a

Supply of gypsum/pyrite/ lime/dolomite

50 % cost of the material + transportation limited to Rs. 750/ha

NFSM

2

Supply of gypsum/ phosphogypsum /bentonite sulphur. Wheat & Pulses

50% of the cost limited to Rs. 750/ -ha

NFSM & BGREI

3

Micronutrients (Rice, Wheat, Pulses & Nutri- Cereals)

50% of the cost limited to Rs. 500/-per ha

NFSM & BGREI

4

Lime/liming materials (Rice & Pulses)

50% of the cost of the material limited to  Rs.1000/ha.

NFSM & BGREI

5

Bio-fertilizers (Pulses Nurti-Cereals)

50 % of the cost limited to Rs. 300 per ha.

BGREI/ NFSM

6

Adoption of Organic




Farming

Rs. 10,000 per hectare for maximum area of 4 ha per beneficiary spread over a period of 3 years involving assistance of Rs. 4000 in first year and Rs. 3000 each in  second and third year.

NHM/ HMNEH 




Sub schemes under MIDH

7

Vermi-Compost Unit (dimension of permanent structure to be administered on)

Rs. 50,000 /- per unit (having dimension of 30 ft x 8 ft x 2.5 ft or 600 cft, on prorata basis)

NHM/HMNEH Sub schemes under MIDH

8

High Density Poly Ethylene (HDPE) Vermi Bed

Rs. 8,000 /- per unit (having dimension of 12 ft x 4 ft x 2 ft or 96 cu ft, on prorata basis and is 15907:2010 to be administered on)

NHM/HMNEH Sub schemes under MIDH

9

Promotion of Integrated




Nutrient Management

Rs. 1,200 /- per hectare (upto an area of 4 hectares)

NHM/HMNEH Sub schemes under MIDH

10

Setting up of new




Mobile/Static Soil Testing Laboratories (MSTL/SSTL)

33% of cost limited to Rs 25 lakh/lab for individual/private agencies through NABARD as capital investment for 10,000




samples per annum analysing capacity.

NMSA

11

Setting up to mini soil testing lab developed by ICAR technology

44% of the cost limited to Rs. 44,000 / lab for individual / private agencies through




NABARD as a capital investment for 3000




samples per annum analysing capacity

Soil Health Card

12

Setting up of Soil testing project at village level

75% of the cost or Rs. 3,75,000 which ever is lower

Soil Health Card

13

Reclamation of Problem Soil

Alkaline / Saline Soil 

Rs. 60,000/ha




Acidic Soil 

Rs. 15,000/ha




90:10 between Centre and State for the NE and Himalayan States 60:40 between Centre and State for other than NE and Himalayan States

RKVY sub scheme on Reclamation of Problem Soil (RPS).

14

Plant Protection Chemicals

Insecticides, fungicides, weedicides, bio- pesticides, bio-agents, micronutrients,




bio-fertilizers etc., @ 50 % of the cost limited to Rs. 500 per hectare.

National Food Security Mission (Oil Seed & Oil Palm)/ NFSM & BGREI
NFSM:- National Food Security Mission
NHM:- National Horticulture Mission
HMNEH:- Horticulture Mission for North-East and Himalayan States
MIDH:- Sub schemes under Mission for Integrated Development of Horticulture