Pradhan Mantri krishi Sinchayee Yojana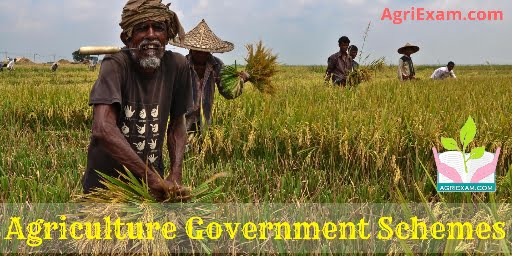 Government Schemes for Farmers Welfare
Scheem

Pradhan Mantri krishi Sinchayee Yojana (PMKSY)


Launch

1st July, 2015


Aim

Protective irrigation for all agricultural farms in the country, and to produce

'per drop more crop'

, thus bringing much desired rural prosperity.

Components

1)Accelerated Irrigation Benefit Programme (AIBP)
2)Har Khet ko Pani
3)Per Drop More Crop


4)PMKSY (Watershed Development)

Budget allocated in 2018-19


Rs 9,429 crore
PMKSY was started in 1st July, 2015 with the motto of 'Har Khet Ko Paani' with an outlay of Rs.50,000 crores for a period of 5 years (2015-16 to 2019-20) for providing end-to-end solutions in irrigation supply chain, viz. water sources, distribution network and farm level applications.
There are two major components of the Pradhan Mantri Krishi Sinchayee Yojana
(PMKSY).
1. To adopt and encourage use of drip and sprinkler irrigation system.
2. Development of small water sources.

With the mission of

PER DROP MORE CROP

, the present Government has allocated more funds to PMKSY so that more area can be covered under irrigation.

The Government of India has initial Corpus of

Rs.5,000 crore

for setting up of a dedicated

"Micro Irrigation Fund" (MIF)

with NABARD under Pradhan

Mantri Krishi Sinchayee Yojana (PMKSY).



PMKSY scheme is being implemented in the mission mode with the help of command area development in order to complete 99 large and medium irrigation projects with capacity of 76.03 lakh hectare by December, 2019. For this work, a Special Irrigation Fund of Rs. 40,000 crore has been created under NABARD.


It is worth mentioning here that the work of 18 schemes has been completed till March 2018. in addition, more than 80% work of 47 schemes has been completed.

In the budget of 2018, under the

'Har Khet ko Pani'

a component of Pradhan Mantri Krishi Sinchai Yojana (PMKSY) scheme, the ground water irrigation scheme will be implemented in 96 districts, where less than 30% land is currently getting an assured irrigation facility. For this purpose

Rs. 2600 crores

have been allocated.
Objectives
Achieve convergence of investments in irrigation at the feld level (preparation of district level and, if required, sub district level water use plans);

Enhance the physical access of water on the farm and expand cultivable area under assured irrigation (Har Khet Ko Pani);

Promote integration of water source, distribution and its efcient use, to make best use of water through appropriate technologies and practices;

Improve on-farm water use efciency to reduce wastage and increase availability both in duration and extent;

Enhance the adoption of precision-irrigation and other water saving technologies (more crop per drop);

Enhance recharge of aquifers;

Introduce sustainable water conservation practices;

Ensure the integrated development of rain-fed areas using the watershed approach towards soil and water conservation, regeneration of ground water, arresting run-off, providing livelihood options and other NRM activities;

Promote extension activities relating to water harvesting, water management and crop alignment for farmers and grass-root level feld functionaries;

Explore the feasibility of reusing treated municipal waste water for peri-urban agriculture


Attract greater private investments in irrigation.
Other initiatives:
District Irrigation Plans (DIPs) are the cornerstone for integrated planning and implementation of PMKSY. District irrigation plans (DIP) for all 675 districts have been prepared which covers almost all the agricultural dominated districts of the country.

An Android based Bhuvan integration app viz. BHUVAN PDMC has been developed in collaboration with NRSC, Hyderabad for geo-tagging of interventions/ assets created under PMKSY