Kisan Call Centres (KCCs)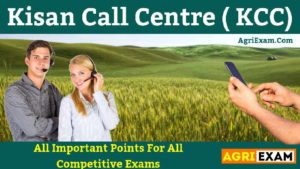 Ministry of Agriculture launched the scheme "Kisan Call Centres (KCCs)" on 21st January 2004 to provide answer to farmers' queries on agriculture and allied sectors through toll free telephone lines. A country wide common eleven digit number '1800-180-1551' has been allocated for KCC. The replies to the queries of the farming community are given in 22 local languages. KCCs operate from 14 locations in the country covering all the Sates and UTs. It's Comes Under Information Communication Technology (ICT)
Main aim of KCC is to answer farmers' queries on a telephone call in their own dialect.
KCC Launched on
21st January 2004
KCC Launched by
Ministry of Agriculture
KCC toll free number 
1800-180-1551
KCC Levels For Solving Farmer Problem
3
KCC Help in how many local languages
22
KCC Operate From How Many Location
21
KCC services are available
6.00 am to 10.00 pm

(All 7 Days of Week)

KCC agents known as 
Farm Tele Advisor

(FTAs)

KCC Adopted From
Kenya
Call services are available from 6.00 am to 10.00 pm on all seven days of the week at each KCC location. Kisan Call Centre agents known as Farm Tele Advisor(FTAs), are graduates or above (i.e. PG or Doctorate) in Agriculture or allied (Horticulture, Animal Husbandry, Fisheries, Poultry, Bee-keeping, Sericulture, Aquaculture, Agricultural Engineering, Agricultural Marketing, Bio-technology, Home Science etc. and possess excellent communication skills in respective local language.
Queries that can't be answered by Farm Tele Advisor(FTAs) are transferred to higher level experts in a call conferencing mode. These experts are subject matter specialists of State Agriculture Departments, ICAR and State Agricultural Universities.
A Kisan Knowledge Management System (KKMS) to facilitate correct, consistent and quick replies to the queries of farmers and capture all the details of their calls, has been developed . Kisan Knowledge Management System (KKMS) has its independent web site http://dackkms.gov.in .
Output
Since inception of the scheme, in the year 2004 over 353.75 lakh live calls have been registered at the KCC till December, 2017.
| | |
| --- | --- |
| More Government Scheme | Open |
| IBPS-AFO Study Material | Open |
| Online Agriculture Test Series | Open |