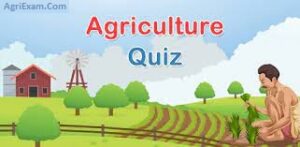 MCQ on Agriexam.com
Agronomy Daily MCQ Study
Q1.Which of the following weeds belong to family graminae?
Cyperous rotandus
Brassica sinensis
Argomone mexicana
Sorghum helepense
Q2.Which of the following weed plants population help soil nitrogen buildup?
Leucus aspera
Melilotus indica
Cynodon dectylon
Lantana camera
Q3.Which of the folowing weeds belong to family Solanacae?
Celosia sp.
Solanmum xanthocarpum
Sachhrum munja
Lolium rigidem
Q4.Weed of no use to farmers under any circumstances?
Crop associated weed
Noxious weed
Facultative weed
Parastitic weed
Q5.Paraquat is what type of herbicide?
Selective
Non-selective
Organic
Systemic
Q6.Weed which has medicinal value?/खरपतवार जिसका औषधीय महत्व है?
Chenopodium album
Sorghum helepense
Tephrosia purpurea
None of these
Q7.Which is the critical period of weed-crop competition in Kharif pulses?
Sowing to 15 days stage
15-30 days stage
30-45 days stage
45-60 days stage
Q8.Cyperus rotundtus is propagated by?
Q9.Which is an example of alien weed……?
Chenopodium album
Parthenium hysterophorosis
None of these
Both of these
Q10.Long persistant herbicide is?
Paraquat
Pendimethalin
2,4-D
Glyphosate
Agronomy Daily MCQ – 91
In Agriexam.com Agriculture MCQ Study for Exams Like IBPS- AFO (Agriculture Field Officer) Iffco, Kribhco, NFL, NSC, ICAR-JRF/SRF/ ARS, IARI, TNAU, RAEO, RHEO, ADO, SADO, DDA,  ADA, MP Vyapam (PEB), FCI, ASRB, ARS, B.Sc. Agriculture Exam, M.sc. Agriculture Exam, University Exam, KVK Agriculture Supervisor ,Assistant Agriculture Officer, Central Warehouse Corporation , Food Corporation of India, And Other Agricultural Exam.