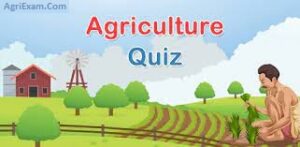 MCQ on Agriexam.com
Agronomy Daily MCQ Study
Q1.Uniformity coefficient is related to……. irrigation?
Check basin
Flood
Drip
Sprinkler
Q2.Annidation means………Interaction?
Supplementary
Complementary
Negetive
Additive
Q3.Classification of climate based on weather elements was given by?
Toll
De Candole
Koppen
Koppen & Thornthwaite
Q4.A history of agriculture in India was written by?
Ramadas
B.P.Pal
RS Paroda
Randhawa
Q5.Seed rate of hybrid variety of Rice is ______per hectare?
Q6.Agronomic biofortification is done by………?
Using GM crops
Intercropping legumes
Applying microfertilizer at higher rate
Using hybrids
Q7.Weight of 100 seed is known as?
Sink weight
Test weight
Seed rate
Seed index
Q8.The base temperature of maize is ______ °C?
Q9.In cotton irrigation is scheduled at IW/CPE of 0.5. Depth of irrigation is 5 cm. calculate CPE?
Q10.Family of water hyacinth is?
Asteraceae
Pontederiaceae
Hydrocharitaceae
Convovulaceae
Agronomy Daily MCQ – 99
In Agriexam.com Agriculture MCQ Study for Exams Like IBPS- AFO (Agriculture Field Officer) Iffco, Kribhco, NFL, NSC, ICAR-JRF/SRF/ ARS, IARI, TNAU, RAEO, RHEO, ADO, SADO, DDA,  ADA, MP Vyapam (PEB), FCI, ASRB, ARS, B.Sc. Agriculture Exam, M.sc. Agriculture Exam, University Exam, KVK Agriculture Supervisor ,Assistant Agriculture Officer, Central Warehouse Corporation , Food Corporation of India, And Other Agricultural Exam.