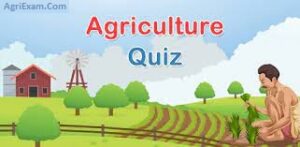 MCQ on Agriexam.com
Agronomy Daily MCQ Study
Q1.Which is a reflecting type anti-transpirants……?
PMA
Atrazine
Kaoline
All of these
Q2.To prolong the beneficial effect of chiseling which of the following is practiced……..?
Stubble mulching
Deep tillage
Vertical mulching
Intercultivation
Q3.Graphical representation of numerical data by drawing pictures is done by?
Pie chart
Histogram
Pictogram
Bar diagram
Q4.A-value given by Friend and Dean is used for assessment of………..In soil?
Q5.Amix is a mixture of……….?
Alachlor 200g+ atrazine 350 g
Metsulfuron methyl 10% + chlorimuron ethyl 10%
Mesosulfuron 3% + lodosulfuron 0.6 %
Pendimethalin 2% + Imezathapyr 30%
Q6.To protect gram crop from Fusarium wilt …………must be done?
Early sowing
Deep sowing
Shallow sowing
Wide spacing
Q7.For planting of napier grass over 1 ha number of rooted slips required are?
10,000
27,800
33,000
66,666
Q8.FACE stands for……..?
Free air carbon enrichment technology
Free air carbon di oxide enrichment technology
Free air CO enrichment technology
Free air CFC enrichment technology
Q9.Which of the following is a multipurpose plough……?
MB plough
Disc plough
Traditional wooden plough
Ridge plough
Q10.Farmer's first concept was given by………?
Indira Gandhi
Leagens
MS Swaminathan
Robert Chamber
Agronomy Daily MCQ – 98
In Agriexam.com Agriculture MCQ Study for Exams Like IBPS- AFO (Agriculture Field Officer) Iffco, Kribhco, NFL, NSC, ICAR-JRF/SRF/ ARS, IARI, TNAU, RAEO, RHEO, ADO, SADO, DDA,  ADA, MP Vyapam (PEB), FCI, ASRB, ARS, B.Sc. Agriculture Exam, M.sc. Agriculture Exam, University Exam, KVK Agriculture Supervisor ,Assistant Agriculture Officer, Central Warehouse Corporation , Food Corporation of India, And Other Agricultural Exam.