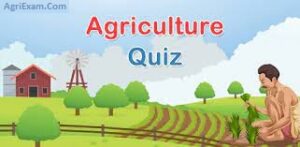 MCQ on Agriexam.com
Agronomy Daily MCQ Study
Q1.Average speed of a cyclone movement is……….?
18 kmph
30 kmph
120 kmph
60 kmph
Q2.In Land capability classification system class ll is represented by colour?
Q3.Which of the following fixes lowest amount of atmospheric N?
Groundnut
Lucern
Soyabean
Moong
Q4.Push and pull strategy is used for management of?
Orbanche
Cuscuta
Striga
Loranthus
Q5.Indian Society of Agronomy established in?
Q6.Rocket salad is a?
Pulse crop
Oilseed crop
Sugar crop
Vegetable crop
Q7.Buffer stock of food grains in India is mainly maintained by………?
IGSI
Govt. of India
FCI
NSC
Q8.In wind erosion majority of soil loss is due to following …………… process?
Saltation
Surface creep
Scrapping
Suspension
Q9.LEPA (Law energy precision agriculture) is a modified ………. irrigation system?
Sub-surface
Surface
Drip
Sprinkler
Q10.Which of the following point is false for SRI…..?
Wide row spacing
Irigated when hair line crack appears
Not labour intensive
Low seed rate
Agronomy Daily MCQ – 97
In Agriexam.com Agriculture MCQ Study for Exams Like IBPS- AFO (Agriculture Field Officer) Iffco, Kribhco, NFL, NSC, ICAR-JRF/SRF/ ARS, IARI, TNAU, RAEO, RHEO, ADO, SADO, DDA,  ADA, MP Vyapam (PEB), FCI, ASRB, ARS, B.Sc. Agriculture Exam, M.sc. Agriculture Exam, University Exam, KVK Agriculture Supervisor ,Assistant Agriculture Officer, Central Warehouse Corporation , Food Corporation of India, And Other Agricultural Exam.