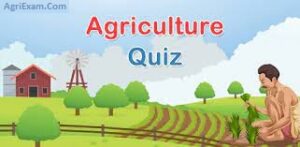 MCQ on Agriexam.com
Agronomy Daily MCQ Study
Q1.Ideal watershed for agricultural purpose is…….?
Sub watershed
Micro watershed
Milli watershed
Mini watershed
Q2.Under late onset of monsoon which of the following contingency planning should be followed….?
Ratooning
Mulching
Thinning
Transplanting
Q3.Till planting is a method of………….?
Minimum tillage
Zero tillage
Conventional tillage
Strip tillage
Q4.Reclamation disease occurs in newly reclaimed?
Histosol
Mollisol
Oxisol
Spodosol
Q5.Which roots are penetrated downward to greater depth of soil………..?
Seminal
Crown/coronal
Brace/prop
Adventitious
Q6.Stem elongation occurs at………..stage of rice plant growth………?
Booting
Tillering
Jointing
Heading
Q7.Unit of Net Assimilation Rate (NAR) is……….?
g/cm2/day
g/m2 of leaf area/day
g/mm2 of leaf arealday
g/plant/day
Q8.For medium range weather forecasting which of the following method is used………?
Numerical
Synoptic
Statistical
All of these
Q9.Among the pulses highest amount of phosphoric acid is present  in and  use for making idli ?
Gram
Moong bean
Arhar
Urd bean
Q10.For tuberisation point of view, potato is required………?
Long day
Short day
Does not depend on day length
Intermediate
Agronomy Daily MCQ – 96
In Agriexam.com Agriculture MCQ Study for Exams Like IBPS- AFO (Agriculture Field Officer) Iffco, Kribhco, NFL, NSC, ICAR-JRF/SRF/ ARS, IARI, TNAU, RAEO, RHEO, ADO, SADO, DDA,  ADA, MP Vyapam (PEB), FCI, ASRB, ARS, B.Sc. Agriculture Exam, M.sc. Agriculture Exam, University Exam, KVK Agriculture Supervisor ,Assistant Agriculture Officer, Central Warehouse Corporation , Food Corporation of India, And Other Agricultural Exam.