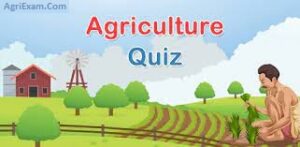 MCQ on Agriexam.com
Agronomy Daily MCQ Study
Q.1: Which soil has the highest cation exchange capacity?
Loamy sand

Loam

Sandy loam

Clay loam
Q.2: Which state has the highest productivity of sugarcane?
U.P.

W.B.

Karnataka

Tamil Nadu
Q.3: Which state has the largest acreagen and highest production of sugarcane country?
Tamil Nadu

Karnataka

U.P.

Bihar
Q.4: Which variety of mungbean is suitable for cultivation both during rainy and summer seasons?
Type-1

Type-44 (Pusa Baisakhi)

K-851

Varsha
Q.5: Which vegetable oil is good for heart patient?
Groundnut oil

Mustard oil

Sunflower oil

Soybean oil
Q.6: Who introduced the technique of production of double cross hybrid maize?
EM East

DF Jones

GH Shull

Mendel
Q.7: With too much increase in nitrogen application, sugar content in juice is?
Decreased

Increased

Remain constant

None of the above
Q.8: Yield advantage in an intercropping system occurs due to the development of?
Temporal complementarity

Spatial complementarity

Both (a) and (b)

Competitive relationship
Q.9: Zero tillage system was first used Successfully in 1950 in pasture renovation in?
Germany

Japan

United Kingdom

USA
Q.10: Zero-till seed drill is used for sowing of?
Wheat in maize – wheat cropping system

Wheat in mung- wheat cropping system

Wheat in rice- wheat cropping system

None of these
Agronomy Daily MCQ – 73
In Agriexam.com Agriculture MCQ Study for Exams Like IBPS- AFO (Agriculture Field Officer) Iffco, Kribhco, NFL, NSC, ICAR-JRF/SRF/ ARS, IARI, TNAU, RAEO, RHEO, ADO, SADO, DDA,  ADA, MP Vyapam (PEB), FCI, ASRB, ARS, B.Sc. Agriculture Exam, M.sc. Agriculture Exam, University Exam, KVK Agriculture Supervisor ,Assistant Agriculture Officer, Central Warehouse Corporation , Food Corporation of India, And Other Agricultural Exam.