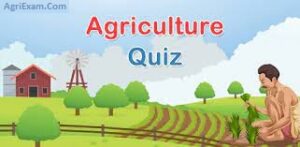 MCQ on Agriexam.com
Agronomy Daily MCQ Study
[google-translator]
Q.1: The inflorescence of sugarcane is known as?
Arrow

Panicle

Capitulum

Racemose
Q.2: The inflorescence of wheat is known as?
Raceme

Ear

Umbel

Panicle
Q.3: The inherent capacity of soil to supply plant nutrients in adequate amount and suitable proportion is called?
Fertility index

Soil fertility

Soil productivity

None of these
Q.4: The insect bollworm is commonly found on?
Maize

Wheat

Cotton

Rice
Q.5: The instrument used for measuring depth of water table is known as?
Lysimeter

Odometer

Piezometer

Evaporimeter
Q.6: The Kresek occurs in early stage of plant growth of rice in?
BLB

Bacterial leaf streak

Tungro virus

False Smut
Q.7: The largest producer of mothbean in India, is?
Rajasthan

Punjab

M.P.

Uttar Pradesh
Q.8: The 'Leaf colour chart (LCC) is used for judging the amount of nitrogen application to the standing crop of which one of the following?
Wheat

Rice

Maize

Sorghum
Q.9: The main crop of potato is planted from?
25th September to 10th October

15th October to 25th October

25th October to 25th November

March-April
Q.10: The main objective of growing a catch crop is to?
Add more residues to the soil

Prevent cracking of soil

Suppress weeds

Get an additional income without further investment
Agronomy Daily MCQ – 56
In Agriexam.com Agriculture MCQ Study for Exams Like IBPS- AFO (Agriculture Field Officer) Iffco, Kribhco, NFL, NSC, ICAR-JRF/SRF/ ARS, IARI, TNAU, RAEO, RHEO, ADO, SADO, DDA,  ADA, MP Vyapam (PEB), FCI, ASRB, ARS, B.Sc. Agriculture Exam, M.sc. Agriculture Exam, University Exam, KVK Agriculture Supervisor ,Assistant Agriculture Officer, Central Warehouse Corporation , Food Corporation of India, And Other Agricultural Exam.