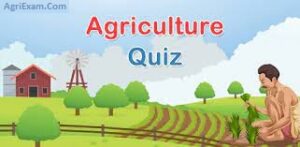 MCQ on Agriexam.com
Agronomy Daily MCQ Study
[google-translator]
Q.1: Dapog method of raising nursery of rice has been introduced in India from?
Indonesia

Taiwan

Philippines

Israel
Q.2: Dead heart and white head damage to rice is caused by?
Leaf roller

Gall midge

Stem borer

Army worm
Q.3: Decomposition of organic matter in submerged soil is carried out by?
Actinomycetes

Bacteria

Fungi

Earthworm
Q.4: Delinting of cotton seed may be done with?
Sulphuric acid

Citric acid

Nitric acid

Hydrochloric acid
Q.5: Directorate of Wheat Research (DWR) is located at?
New Delhi

Hyderabad

Bikaner

Karnal
Q.6: Dolomite is?
MgSO4

CaCO3

MgCO3CaCO3

Ca(OH)2
Q.7: Dropsy disease in human beings is caused by which weed?
Pluchea lanceolata

Argemone mexicana

Digera arvensis

Convolvulus arvensis
Q.8: Due to a wide C: N ratio, application of bulky organic manures like paddy straw will lead to?
Greater supply of available N due to quick deposition

Gaseous loss of N by increased microbial activity in the soil

Immobilisation of soil N

More loss of N by leaching as it is not organically bound
Q.9: During germination radical and plumule develop from?
Embryo

Endosperm

Hilum

Seed coat
Q.10: Dwarf Wheat (Mexican) is introduced in India by?
Dr. NE Borlaug

Dr. MS Swaminathan

Dr. Subramanian

Dr. BP Pal
Agronomy Daily MCQ – 35
In Agriexam.com Agriculture MCQ Study for Exams Like IBPS- AFO (Agriculture Field Officer) Iffco, Kribhco, NFL, NSC, ICAR-JRF/SRF/ ARS, IARI, TNAU, RAEO, RHEO, ADO, SADO, DDA,  ADA, MP Vyapam (PEB), FCI, ASRB, ARS, B.Sc. Agriculture Exam, M.sc. Agriculture Exam, University Exam, KVK Agriculture Supervisor ,Assistant Agriculture Officer, Central Warehouse Corporation , Food Corporation of India, And Other Agricultural Exam.